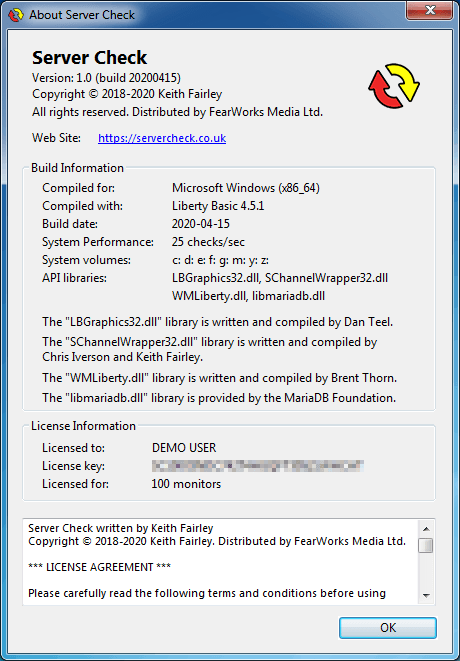 Purchasing a Server Check License
Server Check Monitoring System licenses are available to purchase as a subscription, or as a full (perpetual) license. Each license can be used for one installation of Server Check.
The license price depends on the number of monitors you want to deploy in Server Check. Full licenses can also be upgraded to allow more monitors.
Licenses are valid for all future software updates. There are no "support periods" or "upgrade protections" that will expire. No refunds are offered under any circumstances, as we offer a free 10-monitor version which can be used and tested prior to purchasing a license. No additional software needs to be downloaded to apply a license to the free 10-monitor version.
We accept all major credit and debit cards.
New License Pricing
New licenses are used to set up new installations of Server Check, or to upgrade the free 10-monitor version to a paid license with more monitors. A license can be applied to one installation of Server Check.
2+ LICENSE DISCOUNT: An automatic discount will be applied when purchasing two or more licenses
Multiple Licenses
(Monthly)

Multiple Licenses
(Yearly)
NOTE: The 10-monitor free version can run in a limited mode without registering and applying a license. Monitor checks are limited to HTTP and Ping, and will only run every five minutes or more. Applying a free license to the 10-monitor version will register the software, which removes limitations on the type of monitor check and the frequency at which they can be run.
Upgrade License Pricing
If you already own a full license for Server Check you can purchase a license upgrade to enable more monitors to be added to the system. Once a license is upgraded, the original license will be revoked and will no longer work with any Server Check installations.
To upgrade a full Server Check license, please get in touch with us.
Need to upgrade further? Own more than one license?
SMS Credits Pricing
There are an unlimited number of email alerts and notifications in Server Check. However, SMS alerts and notifications use the SMS Credits balance from your Server Check account.
Most Server Check licenses include a number of SMS credits with them, and extra SMS credits can be added to your account balance by purchasing SMS credit packs.
Boxed Software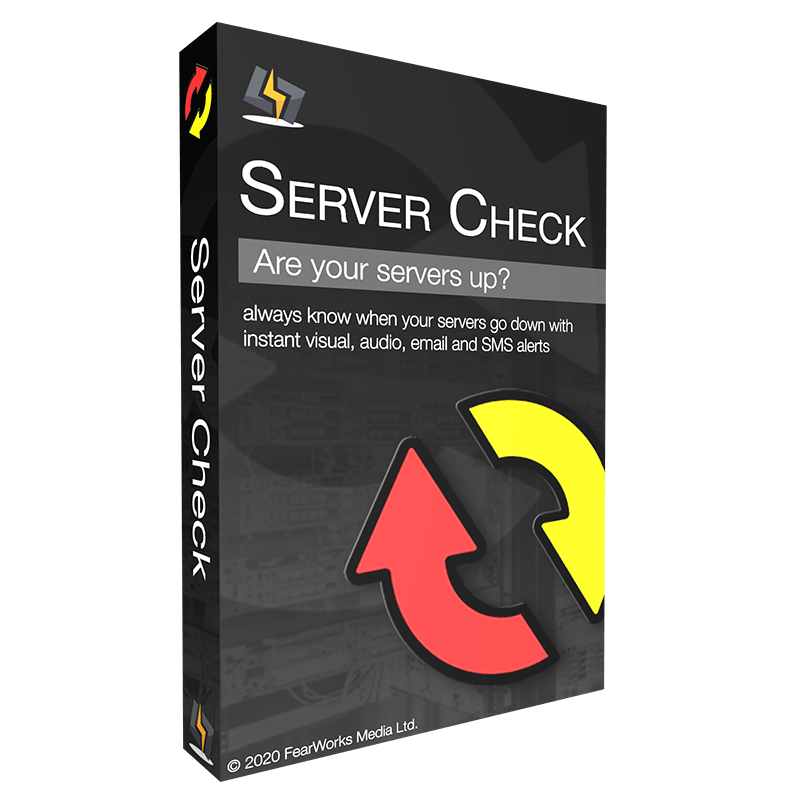 A boxed version of Server Check can be purchased. The boxed software is physically shipped, and includes no license or SMS credits. The boxed version can be purchased along with a license simply by adding both the chosen license and the boxed product to your shopping basket.
All credit and debit card transactions will show as SERVER CHECK.
Payment information is sent directly to the payment processor in a highly secure manner, and only you and the payment processor's automated systems will see your payment information.
Local and sales taxes/VAT may be added to your order depending on your location and the regulations of your state or country.