Are your servers up?
Server Check keeps an eye on your websites and web-based services, and lets you know there's a problem the second they go down.
The Server Check Monitoring System continually monitors your websites and other internet-based services (Ping, SMTP, IMAP, FTP, etc.) and makes sure you're the first to know when there's an outage. Don't lose any more visitors to downtime. Our FREE 10-monitor version of Server Check lets you get started with monitoring in less than five minutes – completely free!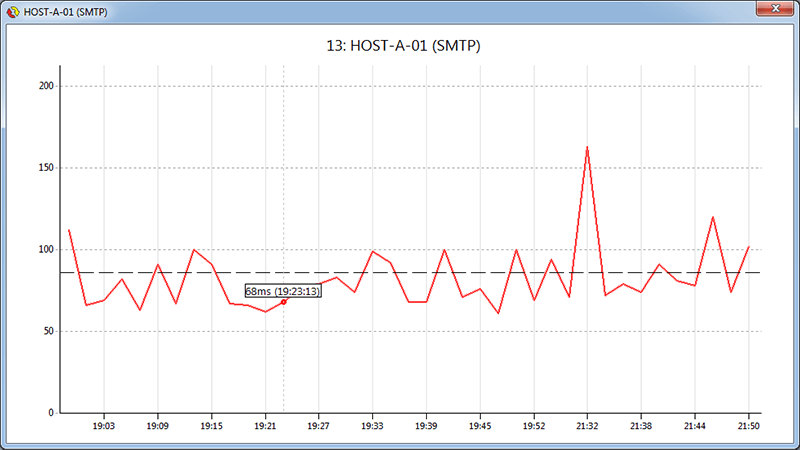 Start monitoring your servers, websites and web services with Server Check FREE version now
Perfect Alerts
Get alerted as soon as something stops working. Visual alerts, audible alarms, emails to as many admins as you need, SMS texts to the admins. Server Check makes sure you know about it so you can fix it!
Stay Ahead
Quick setup of all common protocols, including HTTP & HTTPS, Ping, FTP, SMTP, POP3, IMAP, TCP, MySQL. Monitor them all and stay ahead of any long outages that might lose customers!
Graphic Reports
View statistics for each monitor, response time graphs, outage length reports, web-based stats and uptime pages, and keep track of uptime and downtime over the last 12 months.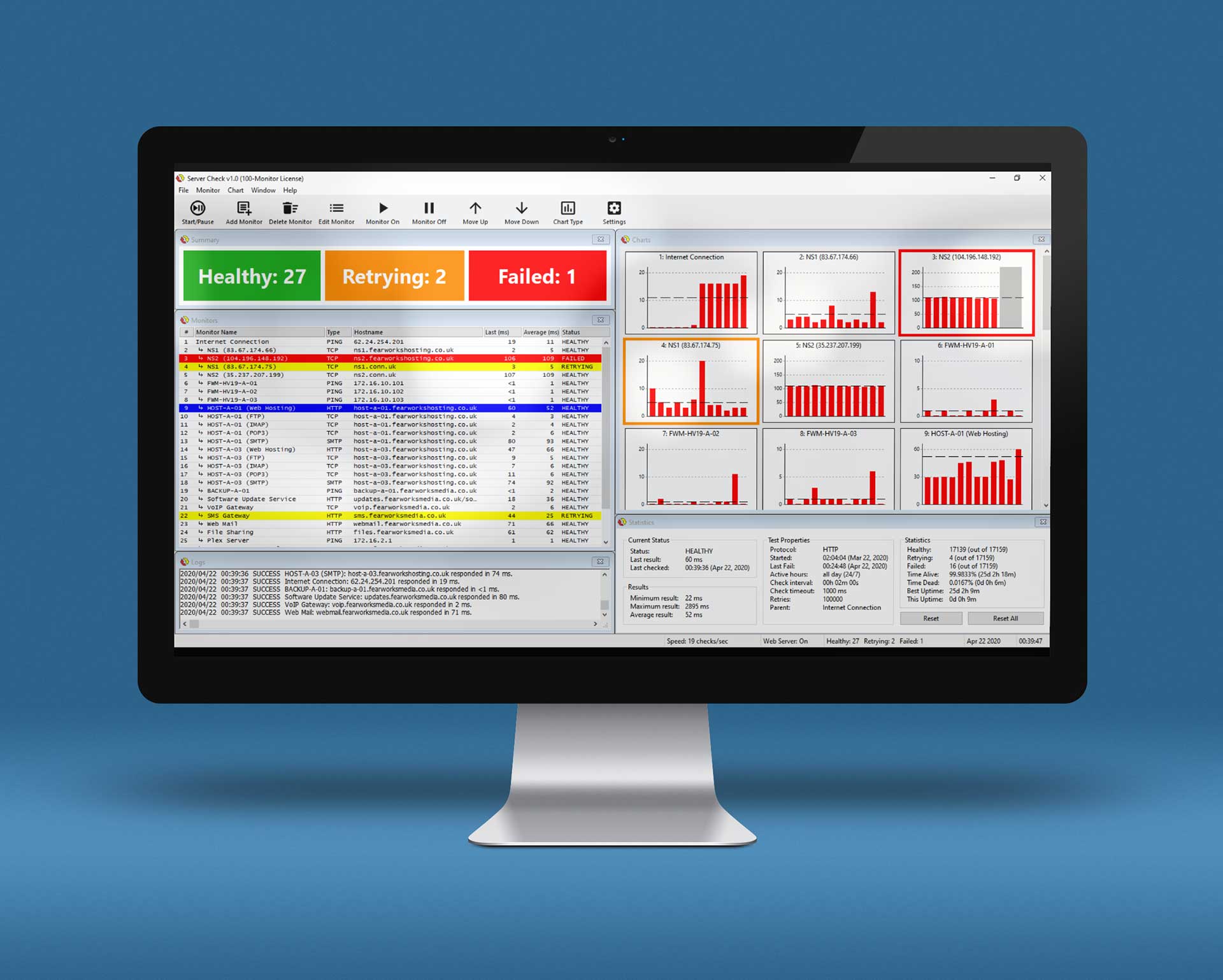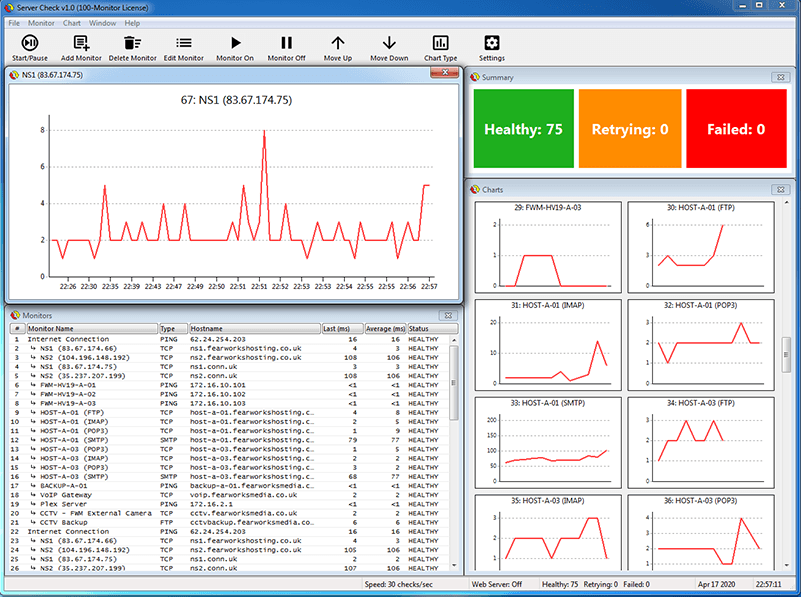 Flexible Interface
With a fully-customisable interface, Server Check is the best choice for monitoring your websites and keeping them up and running. A quick-glance summary window tells you instantly if there's a problem. Organise the information however you want: four types of charts, the monitor list, the stats window, a full-size graph, and even a simple log window so you know what just happened. Choose a particular chart colour for certain monitors to help identify them in the user interface.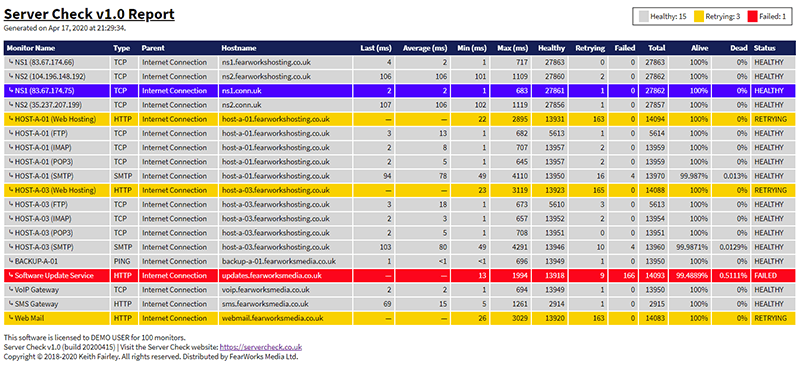 Built-In Web Server
Stay in touch with Server Check via the built-in web server, and keep an eye on the current monitoring status. View the same detailed stats available in the software interface remotely. Select only certain monitors for the remote web stats page. Server Check also provides dedicated daily and monthly uptime pages (up to 365 days) which can be accessed by you and your customers. Now you have even more reason to start using Server Check and be proud of your 100% uptimes!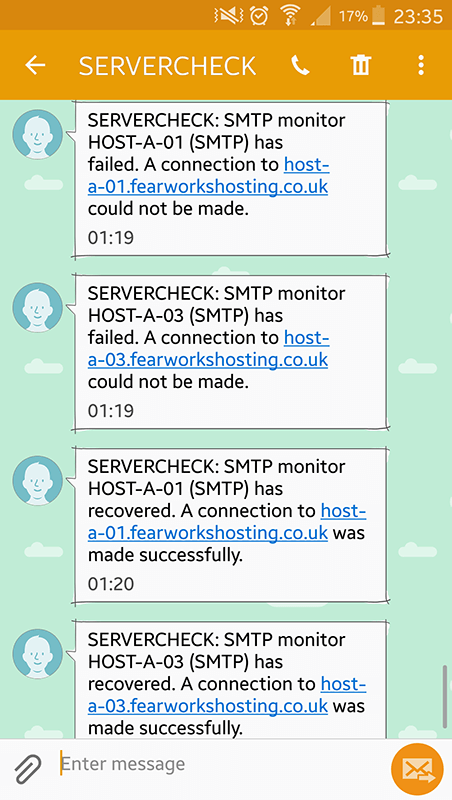 Instant Alerts
If you're near the system where Server Check is installed, the instant audio and on-screen alerts are perfect for letting you know the second something has gone wrong. But what about when you're away from the machine, or Server Check is running somewhere in a data centre or remote location? No problem – Server Check can send you (and any other admins) an email or SMS text* to wherever you are in the world, again within seconds of a problem arising.
You'll never be left in the dark with Server Check!
*SMS Credits can be purchased separately.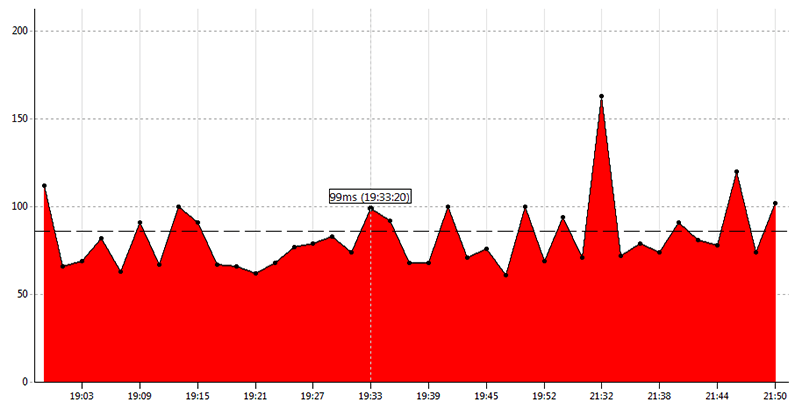 Four Chart Types
Server Check can display monitor check response times in four different types of charts. The bar chart is easy on the eyes and clearly shows how each monitor is performing. The line graph keeps it simple, making increases or decreases in response times easy to spot. The area graph is a popular way to visualise the shape of how a monitor is responding. The scatter graph plots each response as a point, making any outliers obvious. Whichever type of chart you choose, Server Check helps you to take control of your response times and spot potential issues.